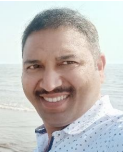 Roopak Sharma is a Certified Solar PV Consultant By Gujarat Energy Research Management Institute (GERMI).
He has been in important role at GERMI for PMC of MW level Solar Power projects of Wipro, LANCO, Harsha Abacus & Sun Edison.
He is an MBA-Marketing and has industrialexperience of more than 15 years.
He is domicile of Uttarakhand and has better understanding of hills terrain. At Uttarakhand he had lead 100+ on grid rooftop Solar projects.
He has delivered flagship projects under his guidance for the company and delivered projects prominently on ti.

Vikas Bhat has worked for various MNC's across his tenure as employee with multidomain  expertise in key account management, tendering, business development and strategic roles for Renewable Energy (Reliance, Moser Baer and Sterling and Wilson ) with total experience of 15years plus in building solar market for scalable projects.
His accomplishment includes deliverable of India's first largest 30MW Gujarat, 15MW Kolkata Airport, 10MW HPGCL, 5MW OIL and private projects with overall businessdevel opment of > 300 MW.